Q: Do you offer any storage facilities?
A: Yes, we do. We have our own secure storage facilities. They are fully alarmed.
Q: What are your operating hours?
A: We operate six days a week until 9pm.
Q: How can you ensure our goods will be safe during moving?
A: We can pre-pack your belongings in order to ensure maximum protection to your furniture and other personal effects.
Q: How do I begin to work with Always Moving Stuff?
A: First, give us a call and then we can determine the nature of the move. From there we can work with you to organise packing, moving and storage options. Call us now on 0418 248 378.
Do you have insurance?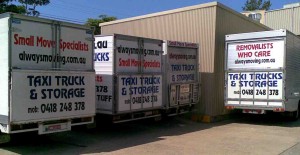 Insurance of your furniture and household goods must be arranged by you directly with the insurance company. In accordance with the Corporations Act 2001, a person (e.g. removalist) must be licensed or authorised in order to carry on a financial service. Additionally your goods in transit cannot be covered by our public liability or workers compensation insurance. Although Always Moving Stuff take all the necessary care to ensure that your goods arrive safely, there may be circumstances whereby a removalist is not liable for any loss or damage to your goods. For these unforseen circumstances we recommend that you take up necessary insurance with www.associatedmarine.com.au or www.removalsinsurance.com.au
CALL OUT AREAS
We operate in the Sydney metro and surrounding areas (including Newcastle, Blue Mountains, Gosford and Wollongong).